Click on the Post Title and View Full Article/Post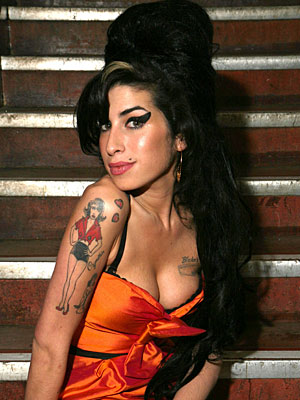 NAME

Amy Winehouse

DATE OF BIRTH

September 14, 1983

BIRTH PLACE

London, England
Amy Winehouse is only 5'2″, but with her swoosh of black eyeliner and towering beehive – which she calls her "secret weapon"– she's larger than life. But it'll take more than a killer 'do to defeat this talented songbird'sdemons.
Back to Black – a brutally honest retelling of her breakup with then-boyfriend Blake Fielder-Civil – has sold more than 3.3 million copies, powered by confessional songs like "Rehab." But in 2007, the brilliant Brit was hospitalized for a drug overdose, checked into – and out of –rehab, and got busted for drug possession. She reunited with andmarried Fielder-Civil, only to have him hauled off to jail (they have sincedivorced).
In January 2008, after being caught on camera allegedly doing drugs, Winehouse entered rehab. Weeks later, she won five Grammy awards, including Record of the Year, Song of the Year and Best New Artist
1983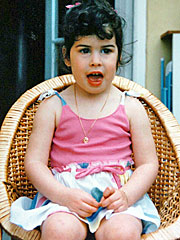 Amy Winehouse has Arrived
Cab driver Mitch Winehouse and his pharmacist wife Janis welcome their second child Amy into their North London home. When the Winehouses split, a nine-year-old Amy and her older brother Alex live mostly with their mother in Southgate – a London suburb best known for housing the Priory, a celebrity-friendly rehab hospital. "She was always very self-willed," her father Mitch tells Rolling Stone in 2007. "Not badly behaved but…different."
1996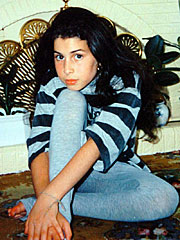 Too Cool for School
At 12, Winehouse wins a space in the prestigious Sylvia Young Theatre School, but is expelled long before graduation. (The final straw? Getting her nose pierced). "She was very bright but she was always messing around," mom Janis tells London's Daily Mailin 2007. By 16, Winehouse – who later tells Interview, "I'm not very ambitious at all" – lands a deal with Simon Fuller's (the man behind American Idol) management company. She eventually signs with Island Records.
2003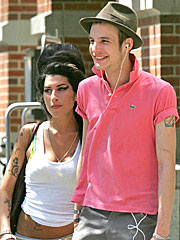 The Amy-Blake Rollercoaster
Winehouse meets Blake Fielder-Civil (left), a part-time gofer on music video sets, at a local bar. She promptly has his name tattooed above her heart, and the two begin a tempestuous, on-and-off romance. During one particularly prolonged hiatus, he reconciles with an old flame and a heart-broken Winehouse writes the bulk of her 2007 breakthrough album, Back to Black. It was a time of extreme creativity, but Winehouse admits she was