Click on the Post Title and View Full Article/Post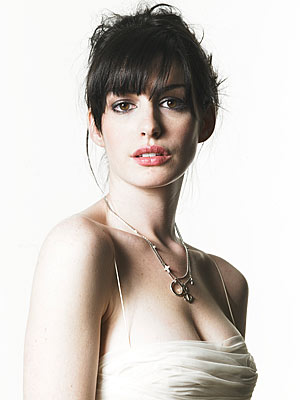 NAME

Anne Hathaway

DATE OF BIRTH

November 12, 1982

BIRTH PLACE

Brooklyn, N.Y.
Little girls – and their moms – fell in love with Anne Hathaway as the frumpy teen who learns she's royalty in Disney's sleeper hit, The Princess Diaries. But Hathaway found herself typecast as the royal girl-next-door (Ella Enchanted and Princess Diaries 2) until she shed her tiara – and her clothes – to play a gay cowboy's wife in Ang Lee's Oscar darling,Brokeback Mountain.
After her critically acclaimed performance opposite Jake Gyllenhaal inBrokeback, Hathaway shared the screen with acting legend Meryl Streep in The Devil Wears Prada. In 2007, the pretty brunette was named one of PEOPLE's Most Beautiful and played Jane Austen inBecoming Jane.
In 2008, the spotlight turned to Hathaway's heartbreak, as her boyfriend Raffaello Follieri was arrested on numerous fraud and money laundering charges. After their split, she shined as a recovering drug addict in Rachel Getting Married, nabbing her an Oscar nomination for Best Actress.
circa 1996
A Jersey Girl Acts Out
Despite her parents' objection, Hathaway appears in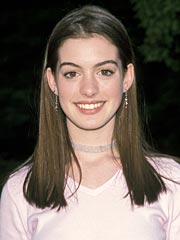 several plays at local theatre, the Paper Mill Playhouse, in Milburn, N.J. "They so wanted me to have a normal life as a kid," she tells the New York Times in 2001, of her parents – Gerald, an attorney, and Kate, who was in a national touring company of Les Misérables. The young Hathaway goes on to study with the Barrow Group, a prestigious New York theatre company, for six months.
1999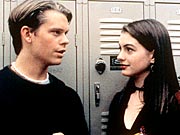 Hathaway Gets Real
At 16, Hathaway plays overachieving daughter Meghan Green in the Fox drama series Get Real (pictured with costar Eric Christian Olsen). The show is compared to the short-lived drama, My So-Called Life, and oneVariety critic likens Hathaway to Claire Danes. LikeMSCL, Get Real is cancelled after one season.
2000
A Disney Princess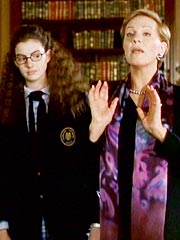 Hathaway takes time off from Vassar College to star as an unlikely royal in Disney's The Princess Diaries. Garry Marshall of Pretty Woman fame directs the movie, which costars Julie Andrews (right) and Mandy Moore. It becomes a sleeper hit and earns $108 million. In 2004, Hathaway reprises her role in ThePrincess Diaries 2: Royal Engagement.